With half term fast approaching, the temperatures are dropping and the chances of catching up with friends have decreased for many of us.  So why not take some time out this half term and enjoy some craft projects with the kids at home instead? 
Make sure your kids have a memorable half term, with our selection of activities and crafts to do at home:
1. Storybook characters made with egg cartons
We love these amazing upcycled book character portraits inspired by Nylah Khan made from egg cartons and cardboard.  You will need: egg box, scissors, glue gun/UHU glue, marker pens, acrylic paint and paintbrushes.  Simply cut off the top of the centre cones of your egg box carefully and stick this onto cardboard portraits marking out a grand colourful border, and paint with acrylic paint, using black marker for details. It's a lovely project for kids to create their favourite book character.
https://www.instagram.com/p/CBeoXShlB-0/?igshid=1oj9qitoe8p3i
 2. Vampire Pumpkin Tutorial
Bored of the same old pumpkin carving tutorials? Well we found a fab way of painting jazzing up small pumpkins and painting them instead!  These painted pumpkins with simple monster faces by Aubree Originals make cute additions to your Halloween decor!  So seek out some small pumpkins in your local shop and get creating some monster designs at home!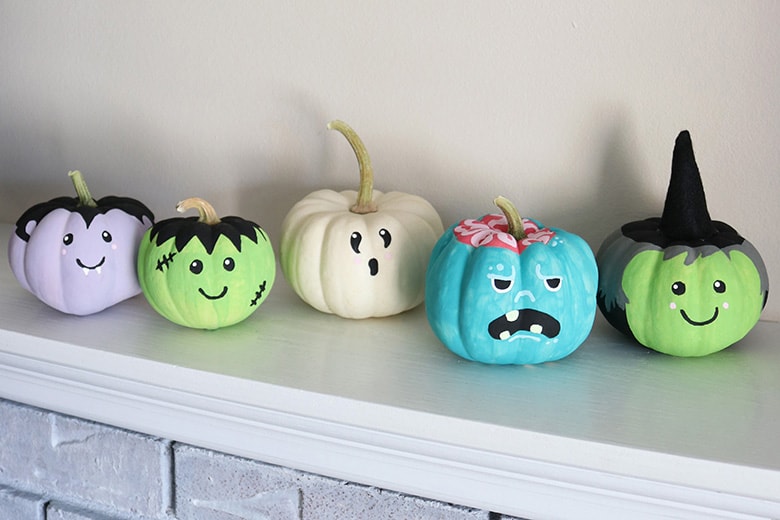 https://www.aubreeoriginals.com/painted-monster-pumpkins/
3. Happy Halloween Acrylic on Canvas
If you have any budding artists in the family, there's nothing more relaxing than doing a family artist tutorial on a rainy day at home.  You will need acrylic paints, brushes, small canvas boards and masking tape, all available to purchase from craft shops such as Hobby craft. We love this Happy Halloween painting for beginners and the music is pretty relaxing too!
https://www.youtube.com/watch?v=7PoWjiBG4lg
4. Halloween Soap Bottles
Get kids washing their hands with these spooky hand wash bottles, perfect for Halloween!  You will need filled soap bottles, orange and black ribbons, jelly eyeballs and plastic spiders!  The perfect craft to do with kids to encourage spooky hand washing at this difficult time!
https://www.craftymorning.com/spooky-halloween-soap-bottles
5. Bring the Theatre home
Get dressed up with the kids, lay out the popcorn (wine) and snacks, and order in a show from Broadway HD! Featuring many of the much loved classics, you can now watch a show from the comfort of your own home. So if you think the kids are missing out on cultural events, you can plan a show in for Half Term without leaving your home! We'll be watching Peter Pan!
6. Create your own Autumn Fairy Garden
Why not help them make a magical fairy garden from foraged wood, bio degradable fairy dust, shells and other natural materials?  This eco friendly craft kit is filled with foraged wood and autumnal coloured leaves and flowers, making the perfect gift for any creative fairy lover!
https://www.etsy.com/uk/listing/882609647/diy-autumn-fairy-garden-kit-with-flower?ref=shop_home_feat_1
7. Learn how to make Beeswax Wraps for use at home
Ever fancied trying your hand at Beeswax wraps, the eco-friendly substitution to plastic cling firm and foil?  Why not teach your kids about sustainability with this awesome DIY Kit with seasonal Halloween prints to make your own food wraps. With this kit you will be able to impregnate the pre-cut fabrics with food-safe grade beeswax wax and a tiny dash of jojoba oil or soy wax as vegan option.
They can be used to wrap and cover most food in the kitchen and is a super alternative to cling film.
8. Home Trick or Treat
If your child's feeling a bit sad that Trick or Treating is cancelled this year, why not treat them to a Halloween Hamper Treat Box which fits through your letterbox?  
These halloween gifts are the perfect pick-me-up treat for Kids who love halloween but can't stray from home this year.